Knowing about Love, Inner Peace, Compassion, Oneness, Forgiveness, Understanding... Is not the same as REALIZING Love, Inner Peace, Oneness, Unity ect....

Has there ever been a better time to commit to REALIZING peace, love and oneness? To make this journey from fear and anxiety to peace and ease for yourself? To go from living through the ego self, to fullly embodying your Soul Self?
How do we move from knowing about these qualities, and having intentions to realize these qualities, to ACTUALLY Realzing them, to actually seeing our lives, our minds and hearts transfromed into a living embodiements of Love, Peace and Oneness?
Devotion. Experience. Practice. Integration.
Intentions are one thing. What you become devoted to will shape your life.
Experience will take you deeper into what you are devoted to. As we become devoted, we find ourselves slipping into real moments of experience. These experiences encourage us to continue to put forth the self effort and desire / will it takes to do the practices.
Practice. We can not settle for the memories of these experiences. We must remain diligent in our practices so that we continue to have more and more experiences. Stay devoted. Seek out opportunities to practice and make time for the practices that support Love, Peace, Oneness - Unity.
Integration. Stay the course. Continue to notice where in yourself and your life you are not congruently living out what it is you are devoted to and continue to integrate your knowledge and experience into every apsect of your life, mind and heart.
Are you ready to become Devoted to Experiencing and Integrating Love, Peace and Unity into your life?
Did you know that 80% of those who take Yoga Teacher Training courses have NO INTENTION to ever teach?!


Treat yourself to an incredible 7 months of personal growth amazing experiences. This program is not just for those who want to teach, this is for those who want experiences, who want to go deeper into the practices they love, and REALIZE Unity.
Would you like to attend our FIRST NIGHT of Yoga School FREE?! Reply back to join us TONIGHT from 5:30-8:30 pm and learn more about what our program entails.
Our Yoga School is different in that I designed it to take you deep into the Practices, and Experiences of Yoga - Yoga is Unity, Oneness. Unity with God, Unity with Your Soul Self.
This is not a survey course to tell you about all things Yoga. This course is designed to give you the knowlege, experiences, and practices that will support you in your efforts to REALIZE Oneness, Love, and Inner Peace for yourself.
We can not teach what we do not know from experience - My intention for creating this Yoga School, is to give you the experiences, and practices to help Realize this Unity in your own life, as well as the tools and knoweldge to share your practice with others.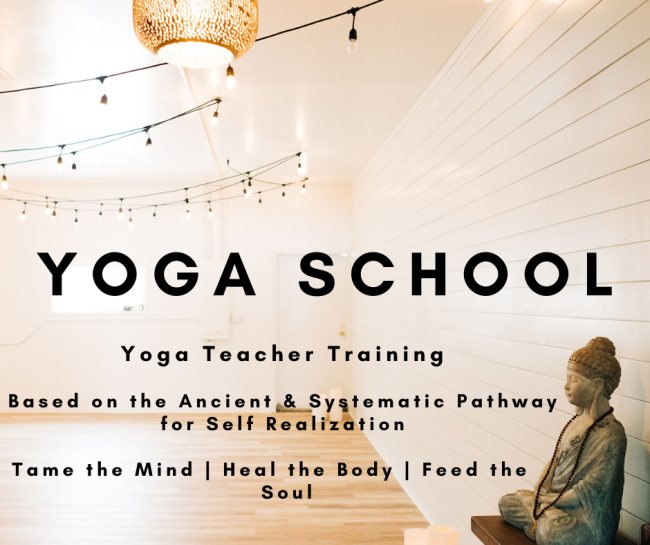 Every week is chocked full of teachings to broaden your knowlege, experiences for you to enjoy, and practices for you to learn and then continue on your own; supporting you and guiding you along your path to Realizing and Integrating - Love, Peace and Unity in your own life.
Our Yoga Teacher Training program consists of:
7 Weekends June - November (2 in June)
40 Yoga Classes outside of these weekends
15 hrs of Self Study for reading, personal reflection, and integratation
5 hrs of Practicum
Upon completion you will be a Certified Yoga Teacher and able to register through Yoga Alliance a 200hr Yoga Teacher.
If you thinking about taking the leap, and treating yourself to 7 months of Yoga School and would like to join us tonight to help decided if now is the right time / if this is the right program - Reply right back to reserve your space in tonights class - we have room for 2 more!
Namaste Dear Friends and Many Blessings of Peace and Love to along your journey!

Christy
To register for our upcoming Yoga School visit OmShantiStudios-School.teachable.com
To register for Yoga classes, visit OmShantiStuidio.punchpass.com